...without needing to constantly update your smartphone or carry heavy cameras.
How to finally get incredible smartphone photos that everyone loves

& that you're proud to share years later? With a simple, fit in your pocket attachment
As Featured On Digital Photography School, Herald Sun & Chanel 9,...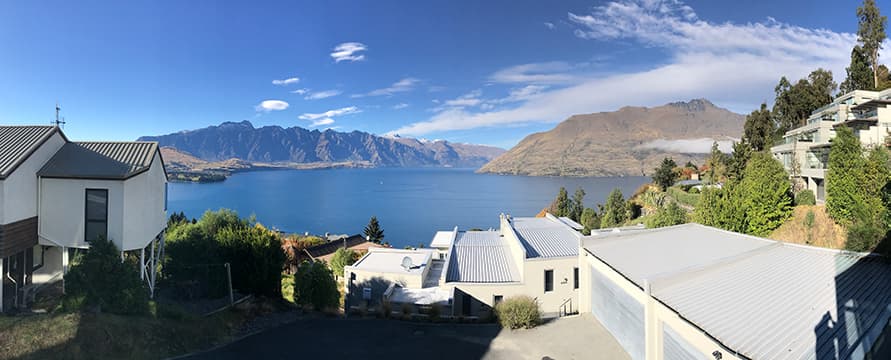 The smartphone is one of the most portable, powerful and instantly accessible cameras ever invented. And because you carry it with you as a phone, you can be ready to take a quick shot in seconds!
But chances are, your smartphone photos are letting you down. Maybe it misses the essence of the moment—or maybe it even misses the subject entirely!
So when golden opportunities pop up for the perfect shot, the default camera and settings on your phone—well, they're a recipe for disappointment.
How does your phone camera disappoint you?
Let's count the ways!
Blur: The intricate details are lost — your phone struggles to focus up close — creates a photo-wrecking blur.
Light: Smartphone native lenses are tiny, so exposure is often out of whack, and important details are too light or too dark.
Subject Too Close: Shooting landscapes or group shots, it's not possible to squeeze everyone or everything you want into the frame—let alone that stunning mountain!

Sound familiar?
You're not on your own!
We're ALL making these mistakes!


I've listened to THOUSANDS of our customers
sharing the same frustrations.
And it's my mission to help!
Hi, I'm Peter—the photographer from Struman Optics
I used to struggle to take interesting, beautiful photos with my iPhone (and then my Samsung)—and I thought my photos would naturally get better as I took more.
But sadly, it doesn't work that way…
You've probably heard the popular saying "practice makes perfect?" Well, the truth is… if you practice taking bad photos…
...you get good at taking bad photos!!
So I decided to change the way I did smartphone photography.
I bought every smartphone photography course and read every book. I invested weeks learning how to get the best possible photos from the technology we all have—but I still found myself badly restricted by the actual lens on my smartphone.
I was obsessed! It was time for a new approach!
For 3 years I interviewed dozens of my favorite smartphone photographers, and amateur photographers using traditional cameras. I reviewed over 20,000 incredible photos from Facebook, Instagram & Pinterest.
And I'm so glad I did.
Because I discovered something BIG!
The native smartphone camera lens actually limits the photos your phone can take. No matter how hard it tries, it just can't compete with traditional cameras and DSLR's.
You see, it's all about optics and interchangeable lenses—that's how the standalone cameras nail the best photos in the world! It's worked perfectly, and hasn't changed for decades.
The biggest advancements in smartphone cameras have been in software—not optics. Phones get faster. Phones get slimmer. The pixels get bigger—but compared to large cameras the fundamental optics haven't truly innovated in decades!
What smartphone makers don't want you to know!
Digital Cameras Are Getting Ditched For Smartphones
% of Consumers who have used the following devices for photography in August 2018
Some of the biggest usage shift today is in smartphone Photography. And it's getting bigger by the day, gradually replacing traditional cameras.
This is from years of research and millions of dollars big companies spend, all to make phones thinner, lighter, faster and more powerful.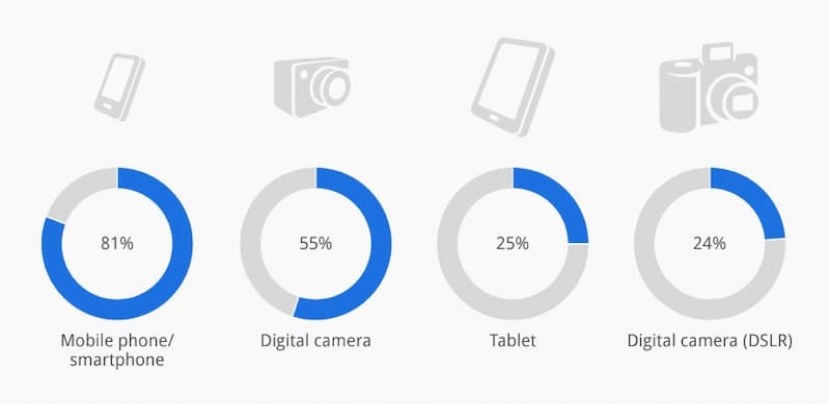 Introducing…
Struman Lenses (For Smartphones)
Watch the Video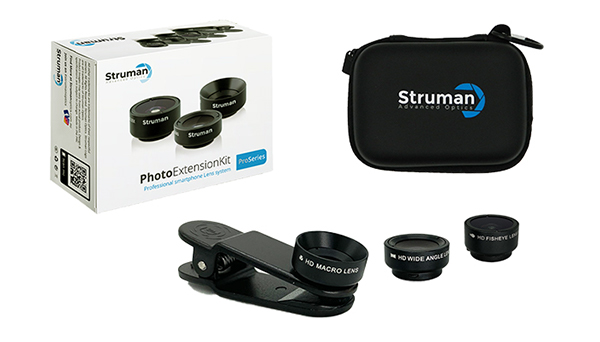 Take professional-looking iPhone photos
Capture special moments with your Loved Ones
Get compliments from friends and family for your photo
By using Struman attachable lenses you can:
Create long-lasting memories you'll enjoy for a lifetime
Get noticed on social media for your photographic prowess
Professional photographers, even with the best of traditional cameras, have always relied on attachable, high quality optical lenses to achieve the optimum results.
Now with the advancement in Smartphone Cameras, Struman optics bring the same technology of traditional cameras to your highly portable Smartphone camera without the bulk.





You no longer need big, expensive cameras to take great photos! You already have a brilliant camera in your pocket—your phone!… All it lacked was awesome optics!
It's like giving Einstein a set of reading glasses!
Want to know what you can do with your Struman Optics lenses?!
Easily Switch between 3
unique lenses in seconds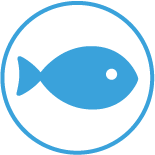 Photograph interesting shapes and compositions that you would normally miss, with your own creative angle. Attach to the front camera for fun and interesting selfies

See beyond the naked eye—like never before! Capture detail in ultra-sharp focus—uncover the beauty in virtually everything around you! Textures, patterns and all kinds of fascinating close ups.

Take brilliant family photos and get everyone in the picture, no more missing relatives in your photos, by using Struman's wide angle your extended family portraits will look like they were taken by a pro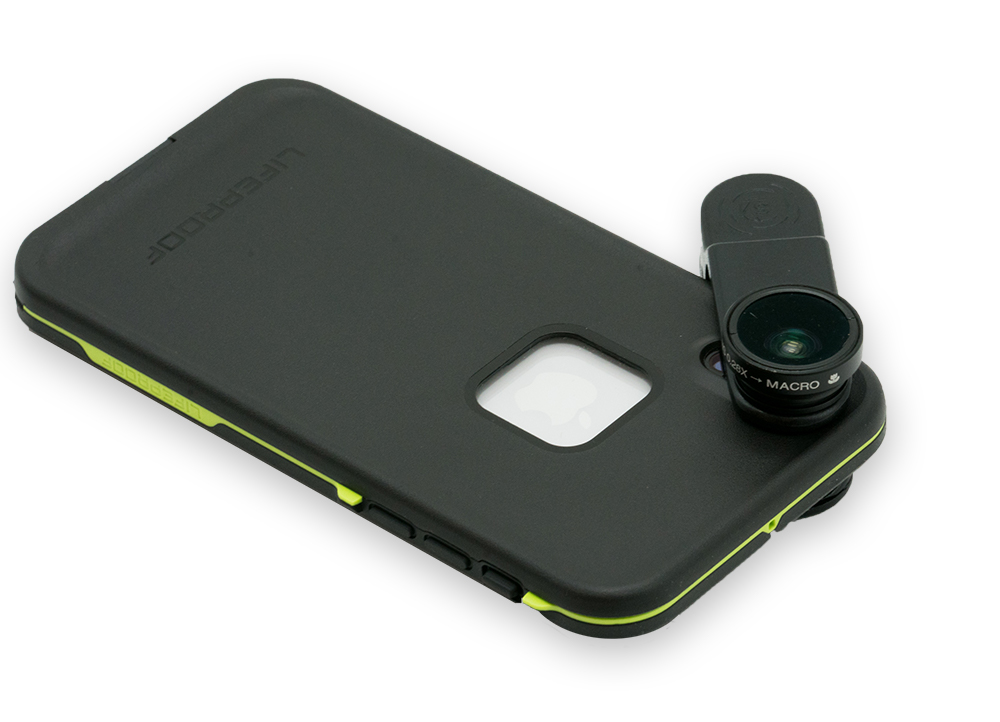 Don't wreck your holidays and special events lugging heavy camera equipment around.
A Professional Camera In Your Pocket!
Moments don't wait for you to set up. Life means mobility and versatility—so you can't miss a beat. Struman Optics Lenses are designed for you to use within seconds. Just Snap and Shoot anywhere you go!
Get in the moment when you get a Struman lens.
That's exactly what you'll get from these lenses—you'll get photos you'll be proud to show off to your friends—and put up on sites like Instagram.
The power of professional
cameras—without the fuss!
Now, OK—you're probably keen to know: "how much does it cost to own these amazing Struman lenses?!"
You might have seen even basic entry level lenses for cameras costing between $300 to $1000 each.
But here's the thing—some of those more expensive lenses are not only harder to use, but they only work on large cameras, and require lots of skill. It's a steep learning curve, familiarising yourself with another new device—that's just to get close to taking shots like the ones above.
But Struman Optics has one simple kit, with everything you need to start taking amazing photos on your smartphone!
And that's without the hassle of lenses that are too complicated to understand, too heavy to carry around, or too difficult to use.
No big manuals or learning how to use a new device. With Struman you use your own smartphone—then:
Just snap—then point—then SHOOT!
So—what do these things cost?!
Similar lenses for a camera would cost you thousands—but that's not the only cost!
Because that's assuming you already own an expensive camera on which to fit the lenses.
Even if you were to lug the camera around—as well as a big bag of lenses—you'd probably be too distracted to actually take great photos!
As one customer said, "I feel like I am on camera minding duty—protecting the camera from the kids in the family and making sure I don't put it down—so it's not accidentally smashed by someone!"
Now—imagine a day on which your friends or family members turn up, and you're ready for a group photo. Or imagine it's a beautiful day, and you decided to go out for a family picnic.
If this kind of spontaneous photo situation happened today, you'd have to know about it yesterday to get the shot! You'd need the camera charged, a spare battery (which also needs to be charged). You'd need a memory card—one that you've carefully emptied—or you might lose your last round of photos!
If all the stars aligned, and you'd charged your camera, carried your lenses, had your SD card empty to snap away, kept it safe from all the children running around at the family event, and… whew! I'm tired just thinking about it!
And that's just the beginning!
You'd still have to bring the camera home, download the photos you took, then you realise the photo file is too big, then you resize it using your favourite software. Then attach it to an email and send it to the friend or family member only to get the email bounce back! Sounds like a lot of work!
Struman lenses are small and light, easy to carry and a breeze to attach and take photos—not to mention that they cost even less than most camera bags to carry your SLR camera!
Photos taken on the phones are definitely of printable quality—either in your own printer, or at Officeworks or a similar place—to be immortalised on canvas.
And after taking the photo, it's as easy to share as a quick post from your phone—whether that's email, Facebook, Instagram, or just sending it in a text.
Plus, when your photos are always in your pocket, you tend to see them and enjoy them a whole lot more—especially compared to having them filed away on a computer or on an SD card. With awesome photos, all on your phone, it's like carrying all your photo albums in your pocket—but available at the bus stop, waiting at the doctors—anywhere!
The good news is that with ONLY YOUR SMARTPHONE CAMERA you'll be totally free from all of these logistics!
You're probably thinking—"I wish I knew about
Struman Lenses earlier"!
OK—so what do they cost?!
To get all the gear mentioned above, you're looking at… at least $1000, don't you think? As much as $5000 actually.
Good news—you won't need to pay
anywhere near that much.
In fact… we won't ask you to pay even half that much!
All you need to invest in yourself is an affordable $199!
That's right… you'll get a complete lens kit in a travel ready pouch, all for just $199!
And NO! That's NOT a typo!
Struman Optics Extension Kit Comes with a
60 Day Money-Back Guarantee!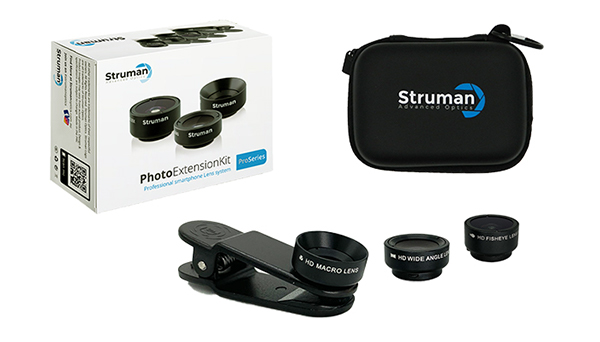 Today Only $199 (Free Shipping)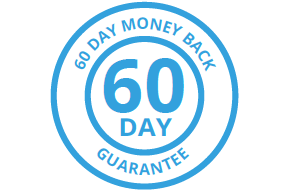 If you're not happy with your Struman lens kit for any reason, just let us know and we'll
refund your payment. All you have to do is send an email to me directly
peter@strumanoptics.com.au and we can start the refund process.
So you don't have to worry about anything.
Low Stock supplies due to high demand, we suggest ordering now so you don't miss out
Struman Wide Angles
Are Great For
Make the world your personal bubble with awesome spherical shots!
Take fun family selfies with hilarious, rich distortion
Take quirky pet shots packed with heart-melting character
Capture unique perspectives in sports and action photography
Struman Fisheye Lens Can Be Used In
Many Different Ways!
Newborn baby detail shots—you'll cherish them forever
Amazing garden shots—become an explorer while entertaining the kids!
Jewellery close-ups for identifying and documenting for insurance
The gorgeous detail of a flower—it can transform your day!
Struman Macro Lens
will amaze you
Make the world your personal bubble with awesome spherical shots!
Take fun family selfies with hilarious, rich distortion
Take quirky pet shots packed with heart-melting character
Capture unique perspectives in sports and action photography













Why do our customers love
Struman PhotoExtension Kit?
It's easy! It's the ultimate 3-lens-in-1 photography and
social media rockstar kit—that attaches in no time, works with any
smartphone, and can always be with you!
It's simple!
At Struman, we're on a mission to help people share the beauty of the world around them using photography. And the only camera that most people have instantly accessible to them is their smartphone.
Every day, we see photos on sites like Instagram and Facebook that are okay—but we know they could be much better… if only the photographer knew the true power of their smartphone.
That's the whole reason we started Struman Optics—and why we make it so affordable.
The truth is, I want you to take stunning photos with your smartphone. Money should never be a barrier to you getting the help you need to take amazing, memorable photos like these:
#strumanoptics by Gabrielle Lazzari
#strumanoptics by Ryan Coates
Yep. I am that serious about you taking incredible photos.
I'm helping you achieve your goals—by adding in a few of my all-time favorite resources as bonuses.
Making you happy is our whole business model! You see, 63% of our customers come from referrals from existing customers. So, when you own a Struman PhotoExtension Kit—and are proud of your photos—you'll be telling your friends and family how great Struman lenses are. In fact they'll see the results!
You're WHAT?! Throwing in BONUSES?!
Bonus #1: (Video Course & ebook )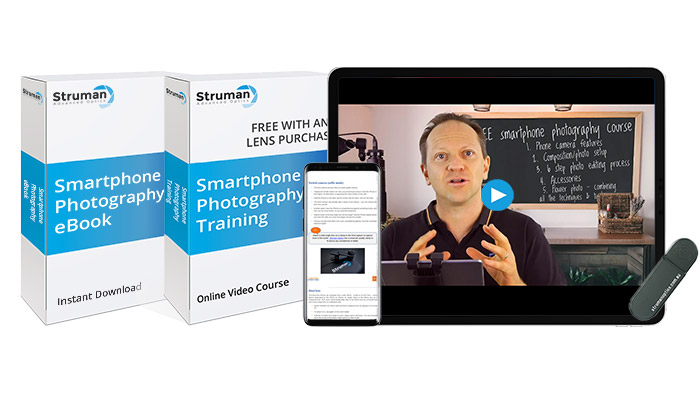 With the Struman lens set, you too can take

perfectly sharp smartphone photos!
Get all the inside knowledge from our
ebook and tutorial videos!
To give you a headstart, we're including a five-part video tutorial, covering how to get the best out of your new lenses and smartphone. Prefer to read? We've got you covered with a detailed, step-by-step ebook.
You'll learn all the easiest methods of composing, capturing & editing your beautiful images to show the world.
In the video series or ebook you'll discover:
The features of your smartphone camera (and how to use them)
Photographic composition—and using light to capture moments
How to edit your photos for impact and energy with the Snapseed app
How to use Struman Lenses to shoot studio-quality photos
Now, if you don't have the absolute latest smartphone, that's totally fine. You don't need the latest smartphone to fully enjoy your lenses—and take outstanding photos. Struman lenses are compatible with all brand and model phones, as well as tablets.




You'll also get a free pocket tripod & remote to take photos from a distance
perfect for family photos that finally include EVERYONE!
Record whole wedding ceremonies without touching your phone
Keep a still lens for those hard-to-get wildlife photos
Preserve precious letters and photos straight to your phone with tripod stability—make them all digital!
Ideal for FaceTime, Skype and video calls.
Easily take great photos—no matter where you are!
Imagine the freedom! A tripod and hands-free recording! You can: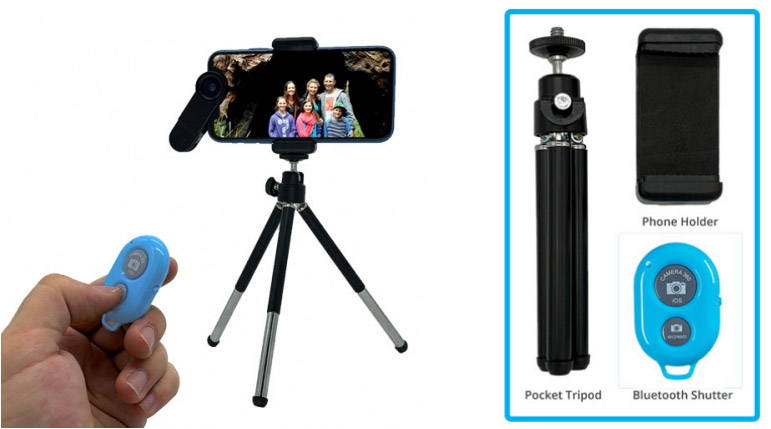 What makes Struman better?
The Struman® PhotoExtension Kit
German Precision Optical Engineering
Whether you're a demanding smartphone photographer, a keen shutterbug—or even someone
who just likes to take happy snaps— the Struman PhotoExtension Kit is the ultimate
must-have accessory.
Designed to power action sports or moving object photography, and make low light performance a breeze.
Fast aperture Optimised F2 optics

Built-in, close focal optics create shallow depth of field with amazing Bokeh effect, isolating subjects from distracting backgrounds.
NFFT (Near Field Focus Technology)™

Avoid glare and streaks in your image—perfect for taking shots of running water or from inside an airplane window.
ARC (Anti Reflective Coating)

Constructed with aircraft aluminium alloy, Struman lenses are extremely durable yet super-light weight. Optics are cushioned with high-density rubber to take accidental impacts. Tops and bottoms feature layers of scratch-resistant coating, with lens caps for dust protection.

Heightened colour accuracy with Multi Nano Coated Optical Glass with multiple opticlear elements in Struman lens on Every Lens that brings your photos to life. Super Sharp Focus and superior image clarity ensuring you spend less time worrying about blur or fuzzy images, and more time taking great photos.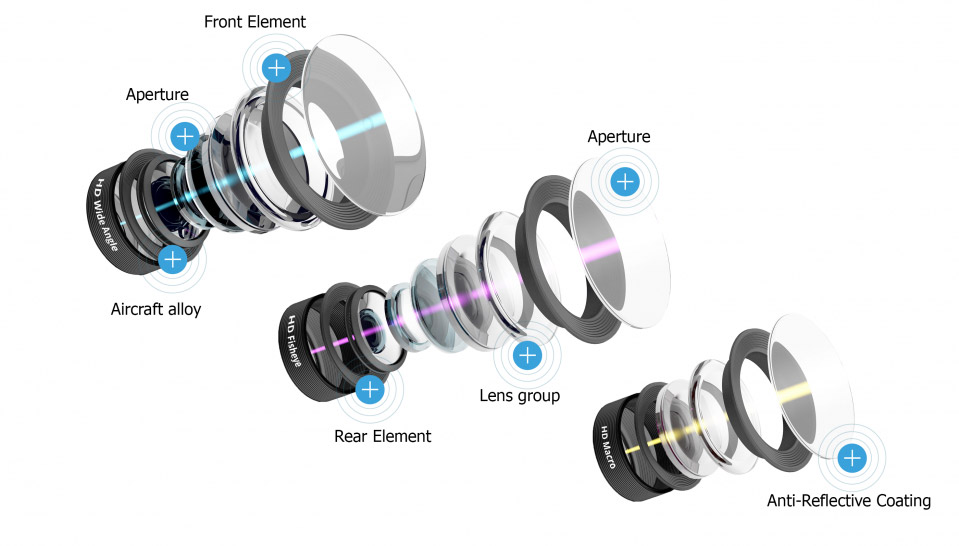 Struman's trademarked universal adaptor attachment system is functional, ergonomic and versatile. Adaptable to all your devices, compatible with smartphones, tablets and laptops. Use our lenses with front and rear cameras or dual lens device.

"Really impressed with the quality of these lenses. The photos came out amazing. I bought the whole pack at the Home Show in April—before I set off to travel around Australia. The great thing is they're so compact, so easy to carry around with you. I no longer even think about carrying my DSLR with me anymore. Great products guys!"

Wendron Spring
Cornwall, UK

Struman Optics are a 100% Australian-owned company, collaborating with a German precision engineering firm. Struman researched, designed and tested for seven years to create mobile lenses made with you in mind. Struman complements cutting edge smartphone technology with its own German engineered precision optics.
At Struman our lenses endure 13 types of testing to guarantee perfect design specifications and flawless production. Our lenses are tested for:
High temperature performance
Low temperature performance












Ever bought an accessory that was outdated the minute you walked out of the store? Most companies plan product obsolescence—but Struman lenses are built to last. However old or new your smartphone, however many times you update it, Struman will stand by you for the long haul.
Buy it once—use it for life!
You don't sit in one spot taking photos—so Struman lenses are built for the road. Your travel case—made of hard composite material—protects during every trip. It features high-density foam cutouts for 3 lenses and the universal adaptor. Plus durable pouch zip and secure belt loop carabiner.
Built for the road—take it anywhere!
Struman lenses—and the whole Struman PhotoExtension Kit—feature lightweight and compact design. Convenient to carry, they're a breeze to attach too. Easy-to-view lens markings mean no complex manuals or apps to download, no batteries and no nonsense—just great photos.
Sophistication made simple!
I can not say enough good things about the Struman Lenses. It is literally like nothing else, What a difference a lens makes, highly recommend anyone to get one, I love it!


5 Year International Warranty!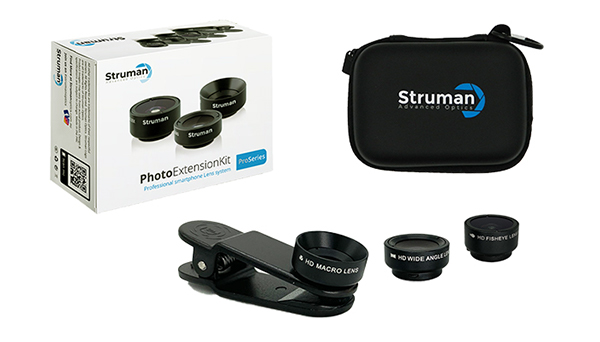 Today Only $199 (Free Shipping)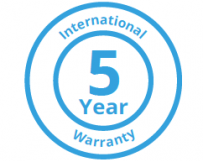 for your Peace of mind all at a very reasonable affordable price
Everyone I know takes photos, some more than others—it's a universal fact. Every moment that counts in our lives can be cherished—and that's where photos and videos are so powerful.
Give the gift of fond memories—forever—to someone you love. Clear, high-quality photographs are yours to share. Struman works flawlessly whatever the brand or model of phone, whatever the upgrade. Struman Optics mobile lenses are truly gifts that keep on giving.
Give the gift of fond memories—forever.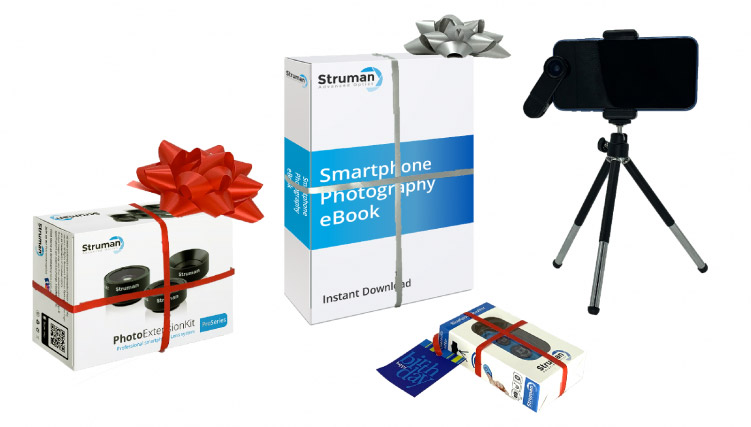 Struman PhotoExtension Kit is the ideal gift—especially for those people who are hard to buy for!
Even if you don't have a high-end smartphone—that's fine! Struman lenses are compatible with all smartphones, and ALL TABLETS!
The Photo Extension Kit special offer includes
Struman Proseries HD Wide Angle Lens $129
Struman Proseries HD Fisheye Lens $129
Struman Proseries HD Macro Lens $129
Smartphone Photography ebook $39
Tripod & bluetooth remote $39
Secrets of smartphone photography
video course $79
Limited Offer—$199 including FREE POSTAGE
if you order NOW!







Struman PhotoExtension Kit transforms your Instagram, Facebook, Snapchat and Youtube content—get busy influencing on a whole new level, to reach all your #travel, #adventure and #social goals! Capture everyday moments like a pro with the ultimate must-have photography and social media equipment.
A picture is
worth 1,000 Likes
Just like thousands of happy customers I've personally known, I'm 100% confident that you'll love the Struman PhotoExtension Kit.
We're so confident that you'll love our products, we offer a 60-day money back guarantee. With your busy lifestyle, it can take time to have a good go and to get to know the lenses. So we give you 60 days! If for any reason you don't love them after 60 days of purchase, just contact us to organise a hassle-free return.
That's how certain I am that you'll love it!
Now, I don't expect you to believe just my word. So here's what a few of our customers are saying about PhotoExtension Kit:
We are Confident you will love it!
Being an amateur photographer, I was sceptical that it'd be as good as my camera—but I was pleasantly surprised. Now I don't have to lug my expensive SLR around! I took it on our European cruise and got some great snaps.

Gordon Meyers
Ringwood, Victoria

I got this lens kit for my iPhone as a gift quite some time ago and never really used it. Today, I was putting together a hobby train set and I wanted to take a close-up photo to show details of the set, and I remembered the macro lens. I have to say, I didn't expect the quality of the lenses and their clip to be too impressive—but I was in for a surprise! The lenses are very smoothly threaded to the mounting adaptor, and the lens covers have tight grips, making the whole thing feel like a high quality product. The lenses themselves are crystal clear.
Just remember to take the lens cap off, and you'll be blown away by the macro lens!

Jacob Taylor
Mandurah, WA

I'm going to England, and wanted to get some great shots, but didn't want to carry my DSLR. Now I love the Struman lenses—they're easy to use, great for travelling, and make the DSLR redundant. Great results too—I even printed a few large-formats to hang up!

Lanie
Goldburn Valley, Victoria

What do the Professionals Say?
"The difference in using the wide angle
lens was huge, making the city sunset
appear alive. Buy This"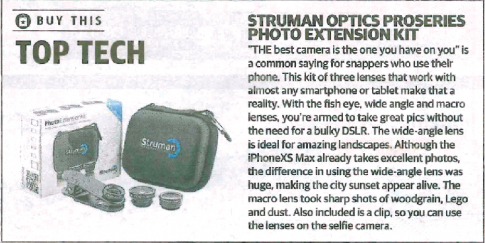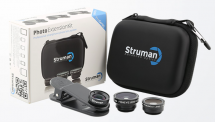 "They are the best mobile phone lenses
I've seen yet. The images are amazing
and the detail you can get in your
images is so sharp."

Digital Photography School

"I've had a look at some other lenses and they've been fiddly to manage. Struman lenses attach straight to the phone case with a useful clip for impressive landscapes or upping your selfie game."
"Its remarkable, it completely changes what your phone will do as far as a camera, that's incredible."
Use Struman lenses for your video
If thats not enough, Struman Optics lenses are currently used by cameraman and reporters, documentary & film makers including: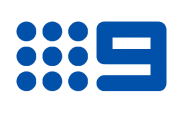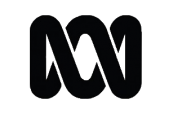 The way I see it you, have two options:

Option #1
You can ignore everything you've learned here, and continue taking photos you're not 100% happy with. You'll continue to take average Smartphone photos that will never be cherished memories, are easily forgotten, and are destined to be deleted!
or…
Option #2
You can at least try Struman's PhotoExtension Kit! Watch the tutorials, apply everything you discover, and start taking great, memorable photos.
Your photos will be so good, you won't be able to wait to get them off your iPhone or Android so they can't be deleted accidentally! They'll be THAT GOOD!
Imagine the looks on the faces of your family and friends when you show them the printed photos you took. Who wouldn't love to experience that?!
I sincerely hope you choose Option #2—because these lenses have utterly transformed the way I take my photos—and I can only imagine how they'll change the way you take yours.
OK, you probably know it's time to make a decision...
5 Year International Warranty!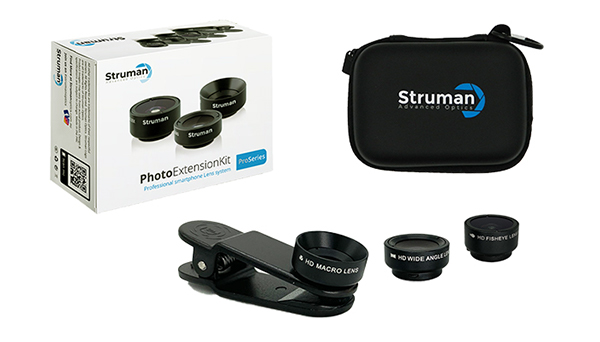 Today Only $199 (Free Shipping)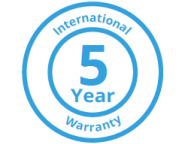 for your Peace of mind all at a very reasonable affordable price
So you don't have anything
to worry about
With our busy lifestyle, it can take time to get to know the lenses. So test the lenses out, take them traveling, attend a wedding, get that family portrait, just snap to your heart's content for the full 60 days… and if for some reason you don't love them after sixty days of your purchase, just contact us to organise a hassle-free return for a refund.



Q. Will they work on my phone?
A. All Struman Optics products are compatible with any smartphone or tablet. Unlike other products, compatibility with your devices and your life is always our goal.
Q. If I upgrade my phone, will they still work?
A. Our unique and durable Universal Adapter ensures our lenses are forever compatible with any device you have now or in the future. No more wasting money on new accessories for compatibility. Memories are forever—the lenses you use to capture them should be too!
Q. Will these work on a tablet?
A. Yes! Our German-engineered universal adapter isn't just for phones! It's also for tablets—because you deserve quality photos with every mobile device you own! Our lenses are designed to eliminate blurry photos and increase your reach on any mobile device.
Q. Do I need training to use these?
A. The only thing you need is a willingness to take photos! All our products are made with you in mind, so our superior and durable German-engineered lenses are easy to use, and require ZERO technical knowledge. As a bonus with this offer, we include fun, short, and easy to understand tutorials and a detailed ebook with each lens purchase.
Q. Are these Tax deductible?
A. Many of our customers use the lenses to take photos for work purposes, either for record keeping, or even tradesman taking examples of finished jobs. With ever-increasing demand on social media marketing, there's never been a more critical time for taking photos for work.
Q. Will they work on a dual camera?
A. Absolutely! Our products work with dual cameras, including the latest iPhone XS Max and Samsung 9 Plus—and any tablet.
Q. Can I Print the photos out? And would they be clear?
A. You definitely can! Not only do our lenses make your smartphone photos printable— they'll be printable on canvas!
Q. Do I have to take my case off to use a lens?
A. Keep your case on! Unlike other smartphone lenses, our German-designed universal adapter works with & without cases, including the popular Lifeproof and Otterbox cases, so you don't have to choose between protection and photography.
Q. What if these break?
A. Struman Lenses are made for the road, constructed with aircraft aluminium alloy. While light to carry and extremely durable, the glass is cushioned with high-density rubber to take the impact of accidental drops. The glass also features multiple layers of scratch-resistant coating with lens caps for dust protection. And you'll enjoy peace of mind in your purchase with our 5 year international warranty. Regardless of where you're using the products—or where in the world you purchased from—all verified purchases are protected for 5 full years from the purchase date! Breaks, cracks, scratches—we'll repair or replace your products under warranty. Just contact us to get started.
Q. Are Struman lenses waterproof ?
A. Struman lenses are a sealed unit, and while they're not designed to be underwater, our customers have taken them out and captured some amazing footage and photos in rain, in snow, and even while skiing.
Q. I want to try a lens, but I'm not too sure. What if I have buyer's remorse?
A. We're so confident that you'll love our products, we offer a 60-day money back guarantee. With your busy lifestyle, it can take time to have a good go and to get to know the lenses. So we give you 60 days! If for any reason you don't love them after 60 days of purchase, just contact us to organise a hassle-free return.
Q. What if I have more questions after I buy or need help?
A. We're a 100% Australian company, with passionate staff who love talking about photography. You can shoot us an email any time to have your specific questions answered. Or if you prefer a chat, just give us a call! And be assured that our people talk in plain english—not technical jargon!
Q. I already own a good camera, what do I do?
A. This surprised us, we originally thought our customers would all be tech-savvy smartphone users—but it's the opposite! True camera lovers with traditional cameras have embraced our lenses as a new medium for taking their next great photo. While the lenses may not be a total replacement of their existing camera, they love the flexibility of a small, easy package. It's lighter and easier to use in most circumstances than a traditional camera—without sacrificing quality. Struman PhotoExtension Kit is a bridge between the benefits of the DSLR camera and the portability of the smartphone.
Q. Why does adding Struman lens make a difference to my already good smartphone photography?
First and foremost, Struman lenses not just improve your photos they let you take photos that weren't even possible before. Struman Smartphone camera lenses contain high quality german engineered Multi Nano Coated Optical Glass with multiple lens elements. At its most basic, these 'elements' are pieces of shaped glass that 'bend' light in various ways. Each element has a completely different function, but they play nicely together in order to form a sharp image, focusing light beaming onto your imaging sensor. As simple as that sounds, there's a hell of a lot of science that goes into our lens design, from inception, drawing, materials sourcing, optical engineering and performance and compatibility testing. If that didn't sound complicated enough, Struman Lenses also offer the photographer a fast focal length of f2. The full complexity of this is well beyond the scope of this answer, but rest assured that our engineers designing smartphone camera lenses have done a thorough job with their research and development that will impress even the most die hard traditional camera fans.
Q. How long has Struman lenses been around ?
A. Struman lenses just celebrated its 8th birthday. As cameras on mobile phones are a relatively new concept, at Struman Advanced Optics we've been developing the lenses since Samsung 2 and iPhone 3. Even though the cameras in early smartphones were very basic—really just an add on feature—at Struman we realised its potential, and predicted smartphones replacing alarm clocks, calculators, torch lights, and watches. We saw the writing on the wall for cameras and camcorders, and wanted to help change the photographic world! We developed our optic lenses for the future, realising them as the best companion for smartphones—improving quality hugely. Regardless of where you're using the products—or where in the world you purchased from—all verified purchases are protected for 5 full years from the purchase date! Breaks, cracks, scratches—we'll repair or replace your products under warranty. Just contact us to get started.
Q. Are you just an internet company and where are you located and where is my lens shipped from?
A. We are very much a bricks-and-mortar nationwide company with a growing internet presence, and despatch centres in Sydney, Brisbane, Adelaide and Perth. Our engine room is a small group of 12 staff, all based at our head office at 11 Hayward Road, Ferntree Gully, Melbourne, Australia. Our customers are from all around the globe, but we still cherish old-fashioned customer service—even with over 500 parcels a day leaving our doors, you can still pick up the phone and talk to us anytime!
Q. Who delivers my package?
A. We use Australia Post with track & Trace features, you will receive a tracking number when it has been dispatched
Q. Will using Struman Lenses use more storage on my phone or use more internet data ?
A. Struman lenses definitely do not use more storage. Struman lenses radically improve quality by letting in more light, capturing colours better, and focusing better. They do not change the size of the photo or impact your storage in your phone in any way. As Struman lenses are non-electronic, and don't rely on any apps, they simply do not use any internet at all—and you can enjoy them completely offline.
Q. I have seen cheaper similar products, what's the difference?
Good question, as many wouldn't think to investigate—they'd just buy cheaper lenses, only to be disappointed. Lenses work by basically changing the way the smartphone camera sensors receive light. Lenses change the angled light and the amount of light and reducing glare etc. Smartphone cameras are getting better by the day—high megapixels, even 4K videos—you need a lens that builds on what your smartphone camera can do. Inferior lenses are mass produced as a gimmick and sold on hype—not quality. At Struman, we're a lens company specialising in smartphone photography—and we practice what we preach.

All the photos on this web page were taken by us and our customers exclusively on smartphones using Struman lenses, even our product photos displayed here are taken by mobile phones. Struman lenses are highly regarded by by even die hard professional photographers and recommended and used in smartphone photography training schools. Even video footage shot with our lens on a smartphone is used by reporters from Channel 7 , Nine and ABC.

At Struman we cut out the middleman—we manufacture and bring the camera quality lenses for your smartphone at an affordable price, with a great 5 year guarantee, and an easy-to-understand video course and ebook. We're a fully Australian-owned and based company with a second-to-none after sales service program.

The proof is in the pudding—we're passionate about our lenses, and confident you'll love and enjoy the quality of Struman lenses as much as we do. That's why we offer a 60 day trial money back guarantee.
5 Year International Warranty!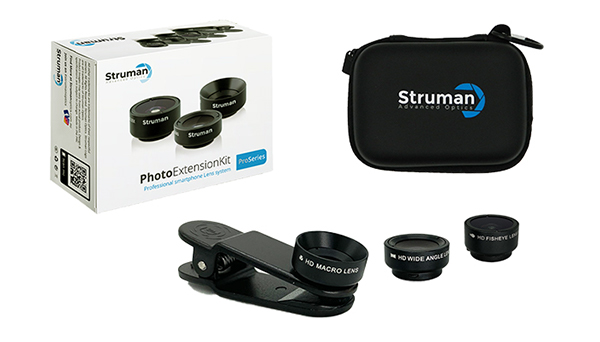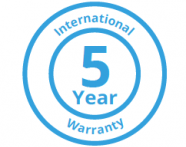 for your Peace of mind all at a very reasonable affordable price